Key advantages of an 'Ice Breaker' activity
This is an ideal activity to help your students get to know each other and, as it were, to simply 'break the ice. I've always found that if the students are comfortable with each other then it is far easier to have a class gel as a whole. On other occasions you may be receiving new students on a continual basis and having the usual 'introductions' can become tedious. To be better prepared for this while stimulating the existing students 'Find Someone Who…' fits this context. Key advantages of this activity;
You can monitor the ability of new students from afar and not appear to be too overt in your presence.
Encourages learner autonomy and responsibility for their conversation.
Recycles vocabulary and grammar they already know.
Students can steadily and confidently become more spontaneous in their reactions.
A great way to give delayed feedback and grammar input at the end of the activty
How to organise an ice breaker activity
The procedure is very simple, but there are three keys points to keep in mind.
Each student is given a the printed sheet 'Find Someone Who' (which can be found at the bottom of this post). Try to make it in colour, and perhaps laminate and re-use for later, as to use the images as prompts for student follow-up questions in their dialogue.
Instruction comprehension check. While students are given prompts like "watch TV", but the aim is to also create questions from this. Generating natural sounding questions is fundamental to a great session. You can try to pre-teach some examples before the activity starts so that they can then create their own.
Feedback. Once you have complete the task you can then review with the students what they have now learned from each other. Encourage students' to share any interesting bits they managed to gather.
More ideas on how to use 'Find Someone Who' worksheets and activity ideas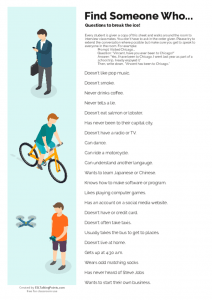 Expected outcomes of students getting to know each other
If you're able to have these sessions for a number of classes you should be able to see a noticeable difference in class behaviour:
Greater class cohesion. Students will be more willing to work with each other and won't see their classmates as 'competitors'.
Improved participation. Since they are comfortable with each other, students will be happy to be involved in class competitions and events
Student growth. You'll also notice students willing to become more daring and try to challenge themselves.
This worksheet is just the first in this set so, please enjoy this free worksheet and do mail us for any feedback you wish to give.